Source:
https://hitandruncandlesticks.com/free-swing-trade-idea/
HRC Member's – Go to the members' area for today's stock picks Members Link
Double Digit Gainers – We supply our members/subscribers with a trade idea-list every day, as of today 46 double digit trade ideas and 25 of them are over 20% some of the trades were taken and some were not. The point is… isn't it nice to have the trade list of winners so that all that we need to do is apply our own trade plan to them? And yes we do have some of our trade ideas that do not work out.
SPOTLIGHT – AAOI
Members Trade Idea – January 18
Currently up – Plus 51%
100 Shares Invested – Plus $1554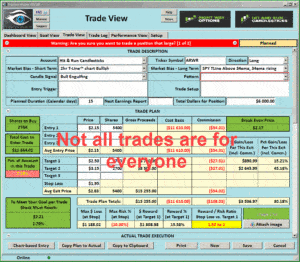 Today's featured trade idea – ARWR
Set Up – RBB with a Bullish Engulf
From a bull's eye:
The bull trend continues to run, Friday's candle on the SPY (In the family of a Bullish Piercing Candle) suggest the bulls are still interested in seeing the market higher. Price and trend are the kings and neither has failed us as of yet. Someday it will
The ETF – $GLD Bullish with a bit of resistance. The ETF UUP Trying to find a direction.
Member's Stock Picks Below
Members Daily Trade Ideas. Be aware of sudden market changes!
Today's stock picks are reserved for subscribed members

Members Daily Trade Ideas. Be aware of sudden market changes!
Today's stock picks reserved for subscribed members
Symbols from TC2000
These are the stocks I put on my watch list to trade. I focus on these stocks for Swing Trades and the potential 10% – 40% gains.  You must follow your trading rules for entry stops, profits or losses. Remember to check for earnings!
Keep your eye on the inverse ETF's They trade well!
The post Free Swing Trade Idea appeared first on Hit & Run Candlesticks.