Source: https://hitandruncandlesticks.com/free-swing-trade-idea-2/
HRC Member's – Go to the members' area for today's stock picks Members Link
Today's featured trade idea – NVAX
Set Up – RBB – 2-day Morning Star
Potential profit – 50% plus
SPOTLIGHT CHART- SPPI
Currently up – Plus 32%
Members Trade Idea – January 5
630 Shares Invested – Plus $963.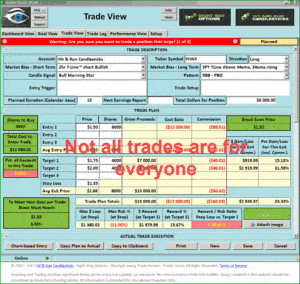 From a bull's eye: The price action and follow through of the recent Bullish Piercing (mentioned yesterday) has kept the bulls in the game. The T-Line continues to support and act as a bullish moving trend line.
Yesterday's featured trade idea ARWR closed 9.77% higher, coming out of our RBB pattern and a bullish flag. Thumbs up to the members trading ARWR.
The ETF – $GLD Meeting with a bit of resistance. The ETF UUP T-Line above 34-ema
Double Digit Gainers – We supply our members/subscribers with a trade idea-list every day, as of today 46 double digit trade ideas and 25 of them are over 20% some of the trades were taken and some were not. The point is… isn't it nice to have the trade list of winners so that all that we need to do is apply our own trade plan to them? And yes we do have some of our trade ideas that do not work out.
Member's Stock Picks Below
Members Daily Trade Ideas. Be aware of sudden market changes!
Today's stock picks are reserved for subscribed members
Members Daily Trade Ideas. Be aware of sudden market changes!
Today's stock picks reserved for subscribed members
Symbols from TC2000
07 – 2017 Hit & Run Candlesticks – Right Way Options – Strategic Swing Trade Service – Trader Vision                                    All Rights Reserved. Terms of Service
Investing and Trading involves significant financial risk and is not suitable for everyone. No communication from Rick Saddler, Doug Campbell or this website should be considered as financial or trading advice. All information is intended for Educational Purposes Only.
The post Free Swing Trade Idea appeared first on Hit & Run Candlesticks.